Customization Options
Many of our products offer customization options. We can also print artwork that you have designed. When submitting your design it must be a PDF, with all graphics at a high-resolution (at least 300 dpi). Please contact us if you need assistance in creating your artwork, click here to visit our contact page. Please note, Tyvek® products are printed in grayscale and cannot produce a high-resolution image.
Specific Product Design Information
Weekly Communicator™ designs must be set up as an 8 1/2″ x 11″ document with minimum of 1/4″ margins on the top and bottom and 1/2" margins on the left and right. We will scale the design to fit on the envelope size that you ordered. For printing on the backside of your envelope, you must leave minimum 1" margins on all sides. To view a PDF of our printable areas click these links: 10×13 print area, 10×15 print area.
Grade Reporter™ envelopes should be set up as an 8 1/2″ x 11″ document with the print area measuring 5" x 7.25". Click this link to see the printable areas: 6×9 print area.
Wristbands have a printable area of 1/2"x8". We do not recommend adding a logo to your design. If you choose to add a logo, it will be very small.
Please keep in mind that we are printing on plastic (Tyvek®) envelopes/wristbands and the printing process does not produce high-resolution images. Create your graphics in black and white or gray scale.
About Bleeds & Safe Areas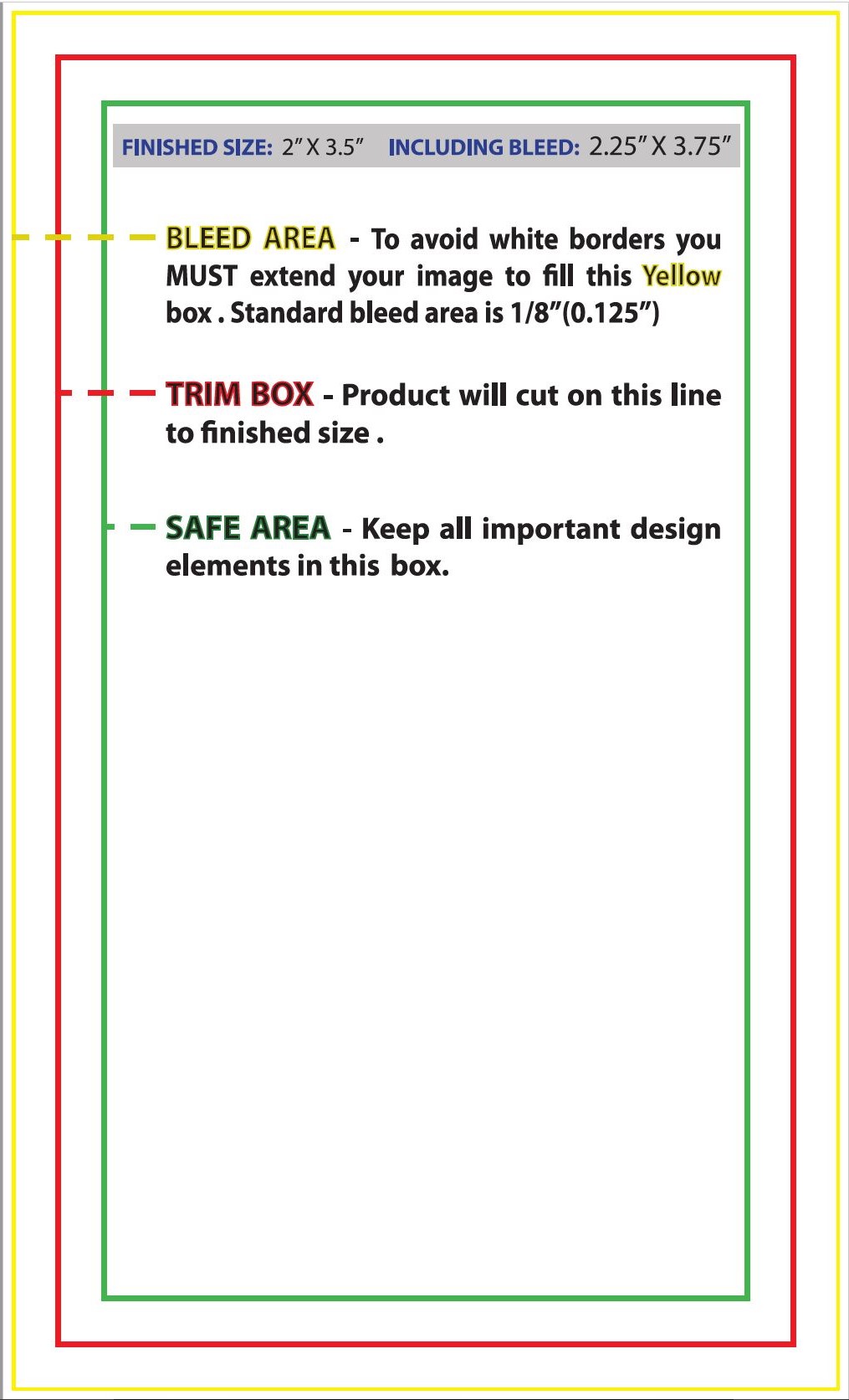 A bleed allows color or graphics to print to the edge of your paper after being cut to size. When your document is being cut, the paper might shift slightly. To avoid having your text or images (like your logo) clipped, you need to create your design with a safe area. To create your design, make your document .25″ larger on both the width and height. Place all of your text and images at least 1/8″ from the final cut lines. Not all products can be printed with bleeds, such as our Tyvek® products. Check each product's specifications for design options.
For example: a standard business card measures 3.5″ x 2″, the safe area is 3.25″ x 1.75″. The image to the right illustrates a standard business card with the bleed and safe areas. Click the image to enlarge it.